The Best Bingo Network Guide – Main Info, Advice & Operators
There are hundreds of bingo sites out there, but it' s important to play the game of chance at a reputable site. Many of the sites we recommend to you belong to a larger network, where the brands share some commonalities, including rooms, promotions, prize pools and games. It contributes towards bigger prize funds and boosted quality of the user experience.
The online bingo market is extremely competitive, so finding both a quality network and site is not as easy as it seems. There are just a few decent groups of sites, so you should consider the fact that often a great operator is followed by a few mediocre ones. That's why we prepared this source of info to give you guidelines about which networks include which sites and what's their quality.
Bingo Networking in a Nutshell – Best of Our Top Suggestions
In the table above, we've summarised the best online networks and their top brands. If you're looking to play online bingo, you should consider trying one of our top suggestions. When we refer either a network or a site to you, we make sure that the sites are properly licensed and provide high-quality gaming experience. Also, we make sure that the sites we recommend to you provide a variety of deposit and withdrawal options that will let you play your favourite games with real money. So, as we already listed our top choices, let's check what's on offer inside each of the aforementioned groups of sites.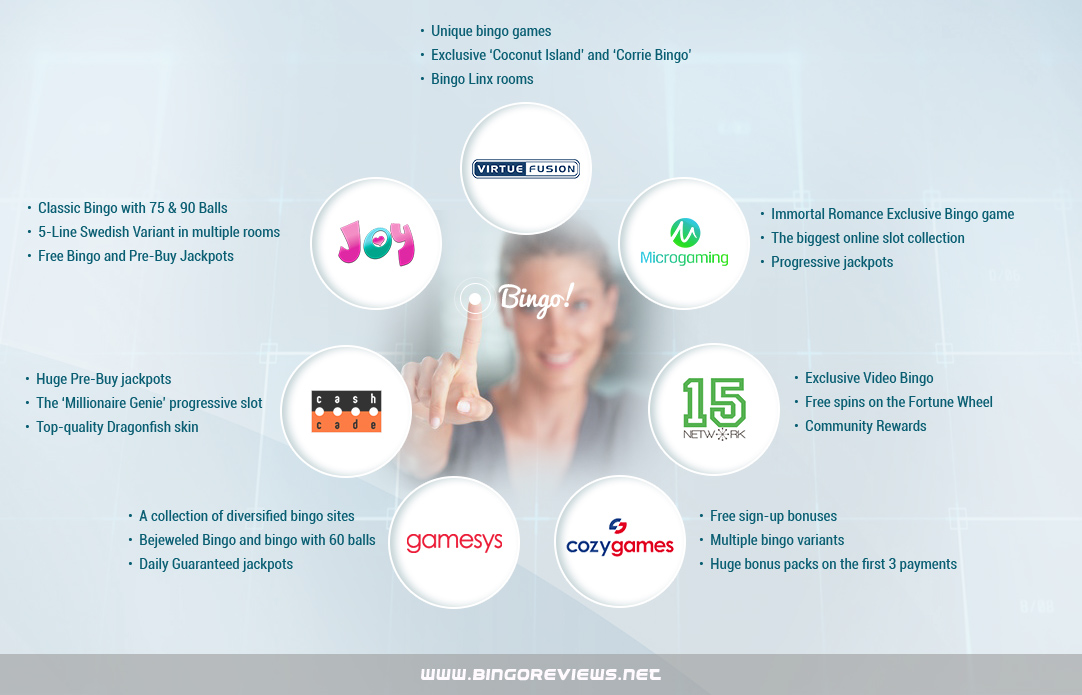 The Top Renowned Networks for UK Players
Joy of Bingo – it is one of the most preferred and renowned houses of bingo sites in the UK. The network shelters all-time favourite bingo destinations like Wink, 888Ladies Bingo and Posh. The Joy of Bingo sites offer the two classic variants of bingo, played with 90 and 75 balls plus the pattern 5-line Swedish bingo. You won't find any shared rooms here but you can compete with players from other sites for the jackpot games available around the clock. However, the JoB sites also offer some shared promotions, bonuses and cashback deals and one of the main benefits – a shared loyalty program and a VIP scheme. The 'Joy Gem VIP' club provides you with the opportunity to accrue loyalty points while playing on any of the sites. So, it means that you will have one handy account, where you will be able to build your balance by playing on any bingo site.
Virtue Fusion – probably the biggest network in the UK, with over 100 bingo sites and more than 60,000 active players per day. Entering any of the Virtue Fusion sites guarantees you a flawless online gaming experience, a second-to-none software platform powered by Playtech and seamless mobile apps suitable for Android and iOS devices. Here's the place to find the biggest number of branded games, including some all-time favourites, such as 'Britain's Got Talent', 'Coconut Island' or 'Coronation Street Bingo'. There's a wide choice of movie-themed bingo rooms and some games that are based on popular TV shows. If you enjoy unique games, then you will appreciate the variety here. Plus, there are some irresistible bonus offers and jackpot deals to make your day. Join the network and you will be able to take part in the Bingo Linx games hosted in the shared rooms, where you can meet players from different sites.
Microgaming – the name of the network is popular among the casino fans for they boast one of the largest online slots collections. However, there are some well-known brands that are operating under the Microgaming's arm, including Dream Bingo, Betway, Glossy or 32 Red Bingo. The bingo division is powered by the BingoTek software and offers the two most played bingo variations – 75- and 90-ball games. The network is mostly popular for their Immortal Romance slot which also has a bingo version, played with 90 balls and offering some fantastic bonus features. Of course, you will be able to explore the variety of online slots, and test some of the best hits, including 'Game of Thrones', 'Avalon', 'Jurassic Park' and plenty more. Some of the slots feature life-changing progressive jackpots and provides some of the best winning opportunities. The sites are mobile-friendly and provide access to networked rooms and a whole host of safe online payment methods.
Cashcade – that's the place to find a variety of standalone sites that are extremely popular among UK players, including Foxy, Think and Cheeky Bingo. The software skin is provided by Dragonfish which guarantees high-quality games and a variety of pre-buy and guaranteed jackpots. Foxy is the most renowned member of the Cashcade, network. They're well-known for their main character, Foxy the Fox. The brand is a multiple award-winner who's always striving for huge welcome bonuses, free bingo games both for newbies and patron players. Cashcade is the place to find the 'Millionaire Genie' slot that can bring you a million-pound prize. The sites offer some essential casino titles like blackjack and roulette, so if you're a casino fan, you won't be neglected. Furthermore, joining the network will give you access to fantastic mobile apps that can be played on iOS, Android and Windows devices.
| Company | Founded | Headquarters | Owner | CEO |
| --- | --- | --- | --- | --- |
| Joy of Bingo | 2007 | Suite 601/701, Europort, Gibraltar | 888 Holdings | Brian Mattingley |
| Virtue Fusion | 2010 | 10 Picadilly, 5th Floor, London, W1J 0DD | Playtech Plc. | Bob McCulloch |
| Microgaming | 1994 | Circular Road, Douglas, Isle of Man, IM1 1BL | Microgaming Software Systems Ltd. | Roger Raatgever |
| Cashcade | 2000 | 18 King William St., London, EC4N 7BP | bWin Party Digital Entertainment plc. | Jim Ryan |
Advantages of Networked Sites
The majority of the trusted online bingo brands in the UK are linked to a bigger network. There are a few reputable bingo networks we already discussed that join hands to offer the best quality games and winning opportunities for the online players. Well, the network model works well for both players and operators. On one hand, newly-launched operators join a bigger network in order to save formation expenses, including the cost of building their own banking facilities, getting a licence and all the technical staff, which is already supplied by the network. On the other hand, the bingo players are the ones who enjoy the benefits of the joined sites. Below, we've tried to provide some info to explain why the bingo network matters and list the benefits for the bingo players.
United Prize Pools – the larger the network, the larger the following and the prize pools. The continuously increasing networks have a large database of online players which contributes towards increasing the prize funds. Wondering how it works? Well, more players mean more sold tickets which means that the jackpot games will provide bigger rewards for the lucky winners. So, playing at a bingo site, which belongs to a bigger network gives you better winning opportunities and the chance to hit some lucrative jackpots than playing at a standalone site.
Popular Guaranteed Jackpots within the Network
Network
Operator
Room
Game Variant
Jackpot
Microgaming
Dream Bingo

Treasure

Juicy

90-Ball

75-Ball

£10,000

£3,500

Cashcade
Foxy Bingo

Five Star

Topsy Turvy

75-Ball, 5-Line

90-Ball

£30,000

£10,000

Joy of Bingo
888Ladies Bingo

Friday £50K Slider

Sat £20K Slider

90-Ball

90-Ball

£50,000

£20,000
Tournaments – Bingo tournaments are some of the most popular and preferred games offered at the majority of the sites. The networked sites have a bigger pool of users which links many players across the entire network. The bigger community linked in a bingo tournament contributes towards increasing the fun and the prize fund. You will be able to play against players from other sites, meet more new people and make new friends and on top of that you can win huge cash prize. So, why not get a better reward if you have that opportunity.
Linked Games – The linked sites often provide linked games and promotions. The games take place at shared rooms where players from all network sites come together and play for increased prize funds. Let's take Virtue Fusion – one of their all-time favourites is the Bingo Linx game providing amazing jackpots and rewards for the participants. Each site on the network has a shared bingo room, where you will come across players from other sites. So, say you're a Gala player and you enter the Bingo Linx room, you will meet players from Mecca, Betfair or any other brand which belong to the VF network.
Less Popular Networks
Along with the most reputable networks, such as Virtue Fusion or Joy of Bingo, there are some less popular groups of sites. Though, some of the sites on these networks are equally as good as some of the popular skins. Some of the less popular but still showing some great progress are 15 Network and United Bingo Network.
15 Network – Despite being one of the newest on the market, this group of sites has a great potential and provides bingo with decent quality. 15 Network was established in 2011 with the launch of Gameshow Bingo which was later re-named to Lights Camera Bingo. The software comes from Jumpman Gaming and provides secure gaming environment. One of the most popular features that can be found at any 15 Network site is the 'Spin the Wheel' feature and video bingo. Apart from that, the sites on the network offer the two classic bingo versions, including the 75- and 90-ball bingo. Plus, you will be able to play some of the best titles from the IGT and Microgaming slot collections.
United Bingo Network – you've probably never heard this name before but the things will get clear when I tell you that these sites operate on a software platform from Dragonfish. Thus, you may rest assured that you're offered some safe gaming experience with a variety of winning opportunities. The sites here are divided into two groups – Gossip Bingo sites (Gossip, Diva, Silk Bingo and Bingo Giving) and the sites around Moon Bingo (Moon, Robin Hood, Sugar and Polo Bingo). Even though, some claim that these sites are standalone and offer some exclusive deals, they tend to share some of their games and promotions and there are also some linked rooms where players from both of the groups meet together.
Our Final Judgement – Is It Worth Playing at a Network?
Overall, bingo networks don't seem like a bad thing – there are multiple benefits for the players as you saw in the paragraphs above. As long as you know that a certain site belongs to a larger network, you can rest assured that your money and personal information are in safe hands and you're a member of a licensed and approved operator. The only disadvantage that we may point out is the lack of variety of bingo rooms and offers. Although networked sites are safe to play bingo at, you should be aware that the majority of the brands offer the same games and promotions in a different skin. Networked sites tend to lose their individuality when they immerse in a larger group. If you're looking for unique games and deals, you should probably try some of the standalone sites, such as Tombola.
*Advertisement
.
T&Cs apply